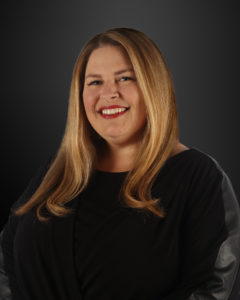 Jessica Yelnick, Training and Development Manager at Valley View Casino & Hotel, was selected as Human Resources Leader of the Year last week at the National Native American Human Resources Association  (NNAHRA) Conference in Cherokee, North Carolina.  NNAHRA President, Judy Wright surprised Jessica at the award luncheon as her name was announced in front of an audience of over 350 attendees, speakers, sponsors and exhibitors.
As part of her nomination entry, Bruce Howard, General Manager for Valley View stated, "Thanks in large part to Jessica's patience, creativity, passion, knowledge, commitment, compassion and humility, she has led the way in our casino that in my opinion is second to none in its commitment to training.  Jessica as the leader of a training team of two has proven more successful in reaching both her own training goals and our company's overall training goals than I have seen with training teams of 6 or 7.  Her upbeat, positive approach is so well received by our team members including myself and all of our executive team."
NNAHRA's HR Leader of the Year is open to human resources professionals working in Indian Country and who make a significant impact on tribal properties through their leadership, mentorship, organizational skills and development of both tribal and non-tribal employees.
Jessica has been with Valley View Casino & Hotel since 2004. Training and Development is her passion as she works to unleash the true potential of those she works with.  She has 17 years of human resources experience having worked with Hollywood Casino, Doubletree Hotel and Hard Rock Casino and Hotel.  Jessica graduated with a B.A. in Liberal Arts from Purdue University.